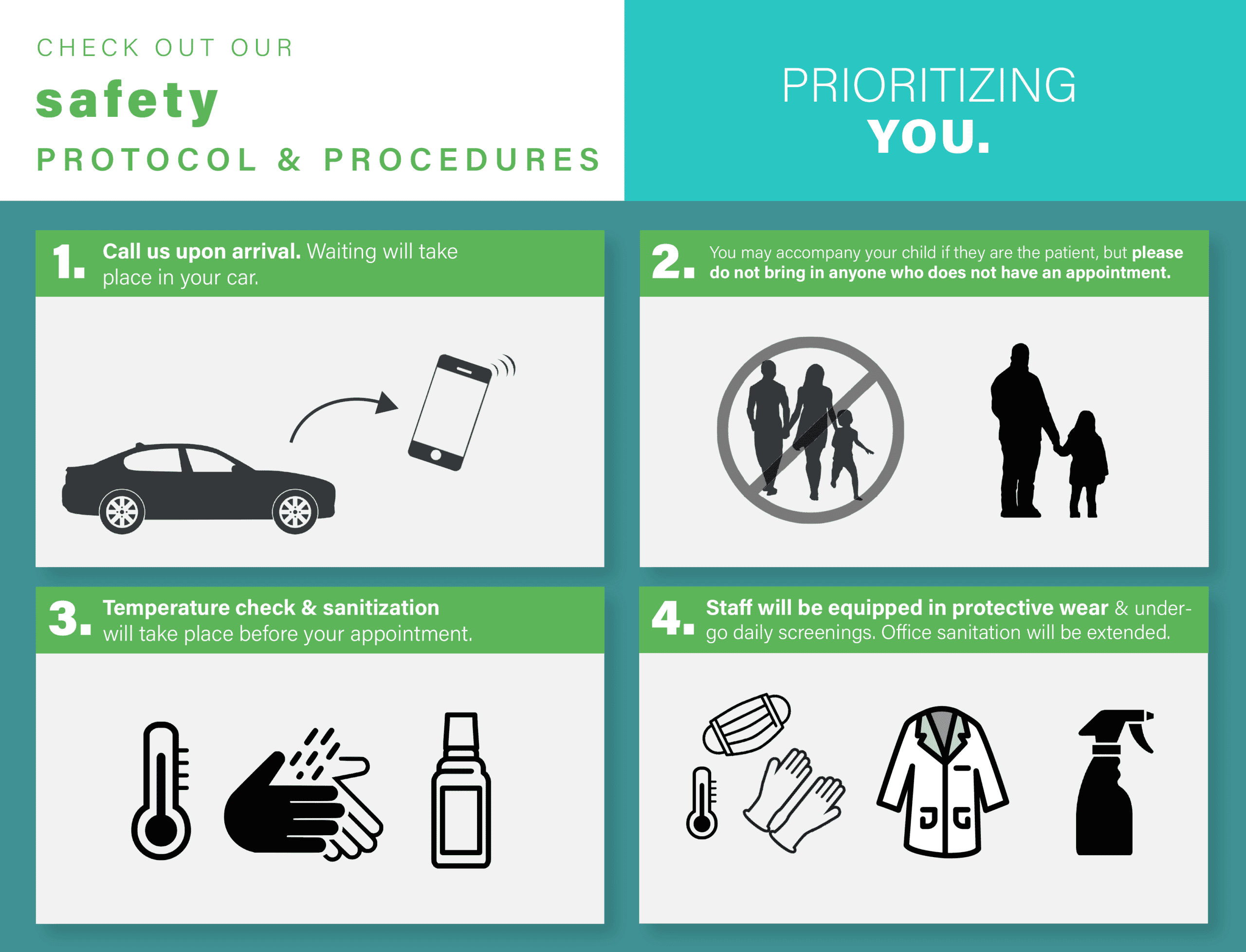 We're here to serve you while keeping you safe!
Tooth decay is the single most common chronic childhood disease—5 times more common than asthma, 4 times more common than early-childhood obesity, and 20 times more common than diabetes. With this data in mind, our practice was founded on the belief that every child and family deserves access to high-end dental care in a safe and comfortable environment.
As we keep our office open for all patients, we want to assure you that your health and the safety of our team is our top priority. Here's what we're doing to ensure we can continue to provide high-quality care while keeping you safe:
In order to protect our patients, doctors, and staff, all patients will be evaluated for fever, cough, or flu-like symptoms. If you exhibit any of these symptoms, we will gladly reschedule your appointment and refer you to your medical health care provider.
This includes a pre-appointment patient questionnaire as well as follow up survey and temperature screening on the day of your appointment.
Building upon our current best in class sterilization protocols by going above and beyond OSHA and CDC guidelines with enhanced infection control procedures.
Disinfecting all surfaces and patient rooms, reception areas, doorknobs, and restrooms after every patient.
Adjustments to patient schedule and check in procedures to maintain social distancing.
Mobile check in options and having patients wait in their vehicles during busy times to limit person-person contact.
What you can do to Stay Healthy and Stop the Spread of Germs!
The CDC publishes a number of best practices that are designed to prevent the transmission of respiratory diseases like COVID-19. Help us prevent the spread of germs at our office, in your Home, and throughout your Community by following CDC guidelines:
Wash Your Hands: Wash your hands often with soap and water for at least 20 seconds.
Apply Hand Sanitizer: Use alcohol-based hand sanitizer.
Avoid Close Contact: Keep your distance from people that are sick.
Use Cough Etiquette: Cover your cough or sneeze with a tissue and then dispose of the tissue. If you don't have a tissue, cough or sneeze into your elbow -not your hands.
Greet Without Hands: Avoid shaking hands and nod, wave, bow, or bump elbows.
Protect Your Face: Avoid touching your eyes, nose, and mouth. Wear PPE gear when appropriate.
Clean and Disinfect: Use proper cleaning supplies to disinfect frequently touched objects and surfaces. Clean and disinfect regularly!
Thank you for choosing us as your trusted Health Care Provider! We continue to make patient safety a priority even when it's difficult, inconvenient, or unpopular!
When is the right time to see a dentist?
While some health organizations have suggested that Americans avoid "routine" dental care, the American Dental Association and Route32 Pediatric Dentistry & Orthodontics agree that delayed dental treatment could lead to more harm than good. Even missing a regular cleaning may mean additional appointments to repair damage that could have been avoided. Our goal is to keep your child smiling bright every day! And that means never neglecting their oral hygiene!
We understand this is a concerning time. But know that our dental office has successfully reopened and everything we do is to keep our dental family safe. One thing for sure is Route32 Pediatric Dentistry & Orthodontics has always taken infection control seriously and with COVID, more-so than ever before.
The right time is always sooner rather than later. Please don't delay your child's next cleaning or dental appointment! Feel free to talk with us about the preventative measures we are taking and even ask for a less popular appointment time. We are here for you!